Astoria Mural

Hidden Gem in Astoria Revealed
We've peeled back the siding on our Astoria financial services center to uncover a stunning hidden mural! The mural was originally commissioned in May of 2002 by TLC Federal Credit Union for its new Astoria location in the Bond Street/Uniontown area, one of Astoria's oldest neighborhoods. They wanted to showcase the new location with an eye-catching historical mural, and local artist Jo Brown was the perfect fit for the project.
During her career, Brown spent 30 years painting for the motion picture and television industry. Between gigs, Brown would return to Astoria to find neglected, old walls downtown and encouraged business owners to spruce them up with a mural. She would then cobble together a budget, pull off the mural, and head back to Los Angeles. Brown's murals can be found throughout Astoria.
"How can I take something bland and uninviting and make it better?" Brown would ask herself. "I love to give people a little bit of history," she explains, "and inform the public of where they are standing." Which is exactly what Brown did with the TLC mural. She worked to create a scene providing insight into the early days of Astoria, featuring the town trolley and an old form of salmon fishing called "seining" using horse-pulled nets.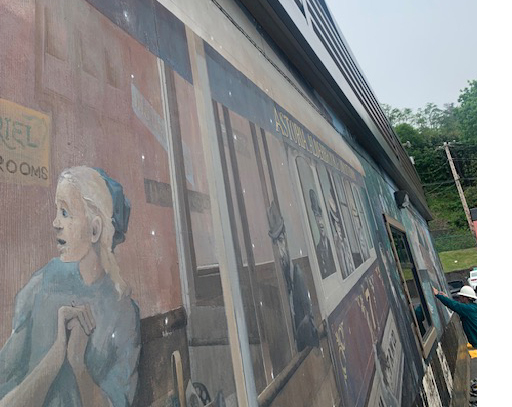 Brown completed the mural in 2002. Years later, TLC Federal Credit Union covered the mural, and Brown's artwork was hidden behind a wall of siding. We only recently discovered that a hidden jewel lay concealed behind the walls at this location, so we went to work on a refurbishment project! We're thrilled to bring Brown back into the project with us as she breathes new life into the mural 21 years after she originally completed it. "I have such admiration for businesses like TLC for preserving and continuing this type of work," Brown said. "All this history – that's us."
Stop by our Astoria financial services center to see the mural for yourself, and stay tuned for information on an official unveiling later this year!
Test Modal
Modal Content
Ea rerum vel molestiae omnis molestias. Et ut officiis aliquam earum et cum deleniti. Rerum temporibus ex cumque doloribus voluptatem alias.
Personal Savings
| Minimum to Open | Minimum Monthly Balance | Minimum to Earn APY | Balance Method | Compounded / Credited | Current Dividend | APY |
| --- | --- | --- | --- | --- | --- | --- |
| $5 | $5 | $50 | Daily | Monthly | 0.49% | 0.50% |
Rate is effective September 26, 2023 and is subject to change.
Also see terms for accounts.
Leaving Our Website
You are leaving Fibre Federal Credit Union and TLC's website. This link does not constitute an endorsement by Fibre Federal Credit Union and TLC of any information, products or services on this external website. We make every effort, however, to ensure all linked sites follow similar privacy policies as ours to offer maximum security and privacy.