How to Avoid Common Checking Account Fees
August 23, 2021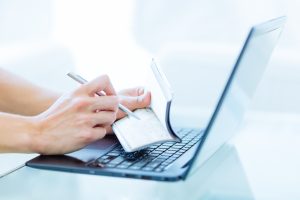 Nobody likes finding a transaction that didn't go through because your financial institution deducted a hidden fee from your account, making it overdrawn. Checking account fees are equally annoying for people with big balances.
Simply put, nobody likes seeing their hard-earned money go to waste. Read on to learn about common checking account fees and how you can avoid them.
Monthly Service Fees
Sometimes known as a monthly maintenance fee, this is a charge for basic operations on your checking account — and it's one you can easily do without.
How you can avoid them:
Look for a financial institution that offers a checking account with no monthly fee. Verify they aren't planning to make up the difference with other transaction fees.

Many financial institutions will waive the monthly fee provided you meet certain criteria, such as a minimum monthly balance. Some financial institutions require as much as $10,000 to waive the fee, and not everyone is able to achieve that.

Look for a checking account that will waive the fee for a monthly balance within your budget. Better yet, try to find a financial institution that does not charge monthly maintenance fees at all.
ATM Fees
ATM fees can quickly add up if you withdraw cash often. ATMs inside stores can be especially expensive.
How you can avoid them:
Use ATMs belonging to your own financial institution as there's usually no charge.

Plan how much cash you need and take out a lump sum rather than several small amounts.

Get cash back from a store when you make a purchase, but make sure to check that there isn't a fee.
Overdraft Fees
We all spend more money than we have from time to time — and some mistakes can be costly. Having an overdraft protection source is one way to make sure your payments always go through, but your bank will likely charge you when you slip into the red.
How you can avoid them:
Keep a positive account balance.

Shop around for the lowest fee for those times when your account is overdrawn.

Find a financial institution that won't charge you in the months you don't use your overdraft protection.
Non-Sufficient Funds (NSF) Fees
Sometimes known as a returned items fee, an NSF is often applied to delayed transactions, such as checks or purchases you won't be charged for until the item ships.
If the payee goes to process the transaction and you have insufficient funds in your account, and no overdraft protection, the check may bounce or payment is declined. You may then be charged a fee.
How you can avoid them:
Keep a note of any delayed transactions, such as mailed checks.

Keep enough money in your checking account to honor all these future payments.

Ask your financial institution about an overdraft protection plan or another facility where they'll honor your payments until you have the funds, at minimum cost to you.
Paper Statement Fees
These fees are to encourage you to take advantage of online banking services and apps. This is because banks can save money and resources by sending fewer paper statements in the mail.
How you can avoid them:
Check if your financial institution has the default setting to receive paper statements for a fee, or get e-statements for no fee.

Select the e-statement option if it isn't the default.

If you need a paper statement, try to find a checking account that offers them for free. Or, easily print them from home when enrolled in e-statements.
Card Replacement Fees
Maybe you lost your wallet or left your card in the ATM. Whatever happened, you can be sure it's happened to someone else too! Of course, you'll need a new card — but who wants to pay for one little mistake?
How you can avoid them:
Choose a checking account that offers replacement cards at no cost.

If there is a replacement card fee, check that the amount is reasonable compared to others.

Call your customer service representative and see if they'll waive it for you.
Foreign Transaction Fee
While more typical on a credit card while traveling, you may incur a foreign transaction fee if you use your debit card to buy goods and services from another country.
The fees may appear on your statement in two parts. The first is the purchase amount converted into U.S. dollars. The second is a foreign transaction fee for converting your money into another currency. This fee could be around 3% of the purchase cost.
How you can avoid them:
Shop only from stores in your home country.

If you know you'll be making frequent purchases from international vendors, compare foreign transaction fees between different financial institutions before you open your checking account.

If you're traveling, use cash, or even an international card preloaded with foreign currency.
Inactivity Fee
If you don't use your checking account for a long period of time, your financial institution may charge you an inactivity fee. That fee could overdraw your account, which may lead to spiraling debt.
Also, note that if you have positive funds in your account and abandon it for too long, your financial institution may turn your money over to the state through a process called escheatment. This may also be referred to as your account going "dormant."
How you can avoid them:
Put a reminder in your calendar to conduct transactions in all your accounts from time to time.

Deposit or withdraw money.

Transfer funds between your other accounts.
Account Closure Fee
If you find your financial institution isn't living up to your expectations, or you're moving away, you might choose to close your account. But some financial institutions will charge you a fee to leave.
How you can avoid them:
Before you open a checking account, make sure there isn't a closure fee.

Keep your account open and this fee won't apply to you.

Keep in mind that paying a one-off closure fee will likely work out cheaper than continuing to pay other fees you're unhappy about.
The Bottom Line on Checking Account Fees
Checking account fees are something everyone wants to avoid. Clearly, learning about checking account fees and picking the right financial institution are the keys to success.
The terms and conditions of different financial institutions can be confusing. If you're planning to start fresh, having the right information on hand can help you make an informed decision. Reach out to Fibre Federal Credit Union today to learn more.