How to Compare Credit Cards So You Can Choose the Right One
March 2, 2022
When comparing credit cards, a bunch of confusing numbers and terms will likely jump out at you. Luckily, a little extra knowledge is all you need to get a clear picture of the best card for your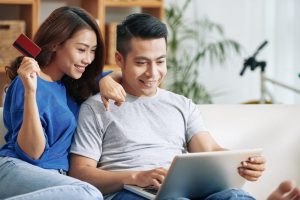 situation.
Choosing the right credit card is the key to getting the most out of your experience – so your card works for you and not the other way around. Read on for tips and tricks about how to compare credit cards.
APR vs. Interest Rate
One of the figures you'll see on any credit card page is the APR. This stands for annual percentage rate and the number you see might be the same as the interest rate – or the APR might be higher. So what's the difference and why does it matter?
The interest rate is the amount you pay in return for borrowing money on your credit card. You pay interest on the balance you carry over each month.

The APR includes the interest rate but may also cover certain fees rolled into the one figure.
When comparing credit cards, be sure to compare the APRs and not just the interest rates as the APR gives a more complete picture of the cost to borrow.
Note: Depending on the lender, the rate you get may be determined by your credit score and the lowest rate offered may only be given to people with higher scores. You can get pre-approved to find out exactly what APR you'll get for your credit score.
Hidden Fees
You've probably heard of the most common credit card fees but the complete list can extend to an entire page. So if you're wondering how to compare credit cards, it's a good idea to ask for full disclosure before you hit the apply button.
Credit card fees may include:
Annual fee: Sometimes known as a service fee and could also be a monthly fee
Late payment fee: If you miss the due date for the minimum payment on your balance
Balance transfer fee: To bring your balance from another credit card issuer
Cash advance fee: To withdraw cash from your credit card account
Foreign exchange fee: To use your card when in other countries or to shop online internationally

Over-the-limit fee: If a purchase takes you over your agreed credit limit
Returned payment fee: If you had scheduled a credit card payment and your checking account had insufficient funds to cover it
Note: Many credit card companies offer to waive the annual fee, balance transfer fee, and cash advance fee, so be sure to look for this benefit when you're comparing cards.
Extra Benefits
Credit cards can come with many bonus features – some of them may be similar to what you find with a debit card or with a personal loan. To enjoy all the advantages of your credit card, make sure you choose a credit card issuer that offers these extra benefits.
Extended Grace Period
The grace period is the time between the end of a credit card's monthly billing cycle and the due date when you need to make at least the minimum payment on your balance. The shortest legal grace period is 21 days, but it can stretch much longer than that.
A longer grace period means you have more time to gather funds so you might be able to pay more than the minimum due. Paying more means you'll keep your balance low and this can improve your credit score!
Fraud Protection
Credit cards come with incredible protection from fraud so you won't be liable for any unauthorized purchases made if your credit card is lost or stolen. Some credit card issuers also offer their own 24/7 Fraud Monitoring Service, so be sure to check this when comparing cards.
Card Support Line and Card Management App
A card support line is a phone service you can call to discuss any queries or concerns you may have with your credit card. Fibre Federal Credit Union offers its Card Care Center service 24/7 so card assistance is always available.
Card management apps like Fibre Card Manager take this idea a step further and put you in control of your card, whether through Online Banking or a Mobile App. With Fibre Card Manager, you can turn your cards on and off, set travel notifications, get account alerts, and place restrictions on transactions or locations where the card can be used. Make sure a feature like this is available so your cards are manageable from anywhere.
Skip-a-Pay
Some months don't go according to plan, so it's great to have the flexibility to skip your credit card payment once a year. This feature may come with a small fee.
How to Compare Credit Cards: Understanding Fees
If you're still feeling as if all credit cards are the same and there's too much jargon to wrap your head around, it might help to get more familiar with the fees.
Comparing the different fees is the easiest way to avoid getting a credit card with high running costs. Click below for more information!