PROS AND CONS OF ONLINE & MOBILE BANKING
December 27, 2022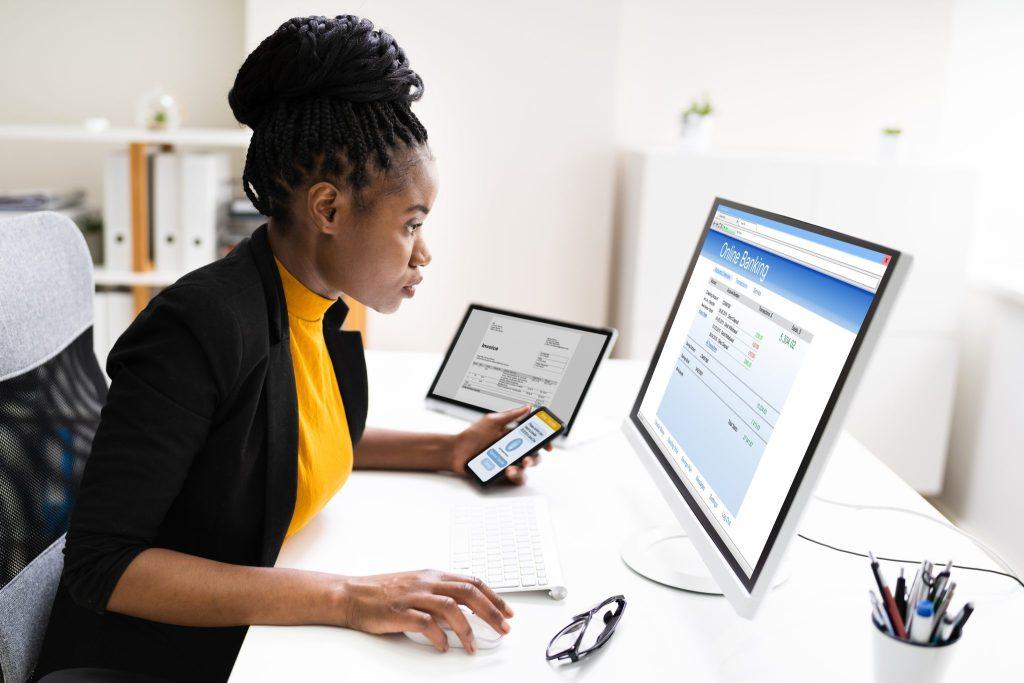 If you aren't currently doing your banking online, you may be missing out on some important benefits. Understanding how online and mobile banking works—plus their pros and cons—may help you determine whether they are good options for your needs. Getting started is quick and easy, and in just a few minutes you could be accessing your account online.
HOW DOES ONLINE BANKING WORK?
Online banking refers to taking care of banking tasks online that you would ordinarily do in person at a bank or credit union. Online banking can be done with either a computer or mobile device. Because you can do your banking wherever you are, you can save time and do your banking more efficiently.
The specific banking functions you can do online will vary depending on your financial institution. Just a few things you may be able to do include:
Pay your bills online

Set up alert notifications

Access your account 24/7

Review banking documents

Update personal information

Transfer money from one account to another

Review account details and recent transactions
Perhaps the most important benefit of online banking is convenience. You could be on a business trip or vacation in another state, for example, and quickly review your account balance. There's no need to even make a phone call. Online banking allows you to take your financial institution with you wherever you go.
IS ONLINE BANKING SAFE?
Online banking is very safe. Financial institutions use the following technologies to protect your account information:
Firewalls

Data encryption

Fraud monitoring

Anti-virus protection

Two-factor authentication
All these layers of protection work together to make sure the information you submit and receive online is secure. Data encryption, for example, scrambles all information sent online so that only the sender and recipient can read it. Two-factor authentication provides strong protection from hackers attempting to access your account.
IS MOBILE BANKING SAFE?
Like online banking where you access your account through a computer, mobile banking is also very safe. It's important to only access your account using your financial institution's official app, however, to take full advantage of the account protections provided.
Check out this video to learn more about Fibre Federal Credit Union's mobile banking app.
HOW DO YOU SIGN UP FOR ONLINE BANKING?
Signing up for online banking is very easy and can be completed in just a few minutes. Using the desktop platform, you can use the following steps to sign up for online banking with Fibre Federal. To access online banking with your mobile device, you'll have to download the free app.
1. Register for Online Banking Access
You'll first need to register for online banking access. You'll be required to accept the disclosure, enter your account information, and complete some additional steps to finish the registration.
2. Set Up Your Profile
After your account is registered, you can then fill out your profile information. You can update your username, password, and turn on two-factor authentication. You can also upload a photo, choose a desktop theme, and do other things to customize your online banking experience.
3. Link Your Accounts (Optional)
If you have more than one account with Fibre Federal, you can link your accounts to your profile to access and manage them online. If you're also the joint owner of one or more accounts, you can link them by calling and talking to a representative.
4. Review Your Accounts
You should now be able to view your accounts and see your balances. Transactions can be sorted by category, date range, and other ways to help you quickly find what you are looking for.
5. Review the Functions and Features
Take the time to familiarize yourself with all the things you can do with online banking. This will help to ensure a smooth online banking experience.
WHAT ARE THE ADVANTAGES OF ONLINE BANKING?
There are several important pros and cons of online banking to consider. For many, the advantages outweigh the negatives.
Ease of Use
Online and mobile banking are simple, intuitive, and easy to use. The interface is well organized with clearly labeled information so you can quickly find your account overview, pay bills online, and transfer money, among other things.
Convenience
Online banking allows you to do many things that previously required visiting a local branch. You also have 24/7 access to your account, which means you can do your banking regardless of the time of day or whether it's a weekend or holiday. Online banking is also great for when you're traveling and can't visit a branch.
You Can Easily Monitor Everything
Online banking allows you to monitor your account activity at all times. It may help to protect you from an overdraft, for example, if you aren't sure how much you have in your account. You can also keep an eye out for fraudulent activity to make sure your account is secure.
Deposit Checks Online
With online banking, you may be able to deposit a check without having to visit a branch. This is usually done by taking a picture of the front and back of the check and then submitting the information through your online account.
Pay Bills Online
Online bill payments allow you to save money on stamps and trips to the post office. They also save you the time and trouble of making payments in person. You can either make a one-time payment or set up recurring monthly payments to make sure your bills are always paid on time.
WHAT ARE THE DISADVANTAGES OF ONLINE BANKING?
Although online banking is quick and convenient, there are some potential disadvantages to consider.
You Need a Reliable Internet Connection
For online banking to work, it requires a reliable and secure internet connection. This may be a problem, for example, if you're camping in a remote location or your neighborhood experiences a power outage that could disrupt your internet connection.
Potential Technology Problems
Although financial institutions strive to keep their online banking systems running at all times, you may experience occasional disruptions to the service. Scheduled maintenance could result in a temporary service disruption, for example. You may also have trouble accessing your accounts if your computer or mobile device isn't working properly.
It's Hard to Build Relationships
Building personal relationships with the people you bank with can be beneficial for certain specific transactions—for example when you're applying for a mortgage. Someone who knows you may also be willing to waive an occasional fee. If you do the majority of your banking online, you'll miss out on getting to know the people who work in your local branch.
You Can Only Do Some Things in Person
Although technology is rapidly advancing, there are still some things that you may only be able to do in person, like signing documents for a loan. It depends on the financial institution you bank with and the capabilities of the online system they're using.
ONLINE AND MOBILE BANKING WITH FIBRE FEDERAL
Online and mobile banking have revolutionized the way that many people do their banking. Instead of having to travel to a local branch, you can execute many financial tasks entirely online from your computer or mobile device.
Click on the following link to learn more about the benefits of online and mobile banking. It just takes a few minutes to register for access to enjoy the freedom and flexibility that online and mobile banking provides.