Take Charge of Your Credit Health
My Credit Score by SavvyMoney
Curious about your credit? Now, you can log into your personal Online Banking or our mobile app to access your credit score, credit report, and credit monitoring for free!
Once you Log In:
Desktop
Click the prompt on the sample credit score meter to launch My Credit Score.
YOUR CREDIT SCORE
This number gives you a quick, current snapshot of your credit.
Score is updated monthly, but you can refresh daily if you wish.
Scored by VantageScore 3.0, a model developed collaboratively by Equifax, Experian, and TransUnion, the three major credit bureaus. Up to 200 factors are considered when calculating a score.
Credit profile is pulled from TransUnion.
"Soft inquiry" will not affect your credit score.
Watch a Video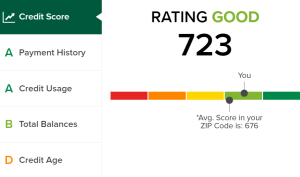 YOUR FREE CREDIT REPORT
This report contains everything you would find on your credit file:
Open loans
Open accounts
Open credit inquiries
Payment history
Credit utilization
Public records
Checking your credit report here won't affect your credit score, because it's a soft inquiry.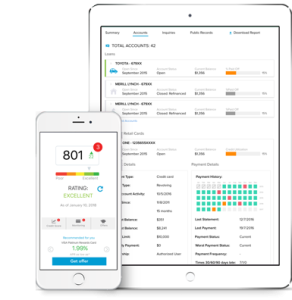 DAILY CREDIT MONITORING
This service helps flag potential fraud and identity theft attempts by checking your credit report daily. You'll receive an email when the system detects any of the following events related to your identity:
New accounts opened
Address changes
Employment changes
Delinquency reports
Credit inquiries
If you ever change your email address, simply update it in your Online Banking.
EDUCATIONAL CONTENT
Learn what affects your credit score positively and negatively. You'll get helpful tips customized to your unique credit standing, ranging from debt management to overall financial wellness.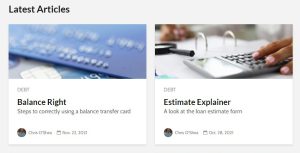 The VantageScore 3.0 credit scoring model was collaboratively developed by Equifax, Experian, and TransUnion to make information more uniform between the three major credit reporting bureaus.

Some financial institutions use the other scoring model (FICO), and each model might weigh some of the 200 factors differently. No matter which scoring model is used, credit ratings fall in these specific ranges:

Excellent: 781-850
Good: 661-780
Fair: 601-660
Unfavorable: 501-600
Bad: 500 or below

My Credit Score is not intended to be comprehensive and may not provide all information about user accounts. That's why we encourage you to take advantage of obtaining free credit reports from www.annualcreditreport.com to look for any incorrect information or discrepancies across all three bureaus.

If you ever think there's a mistake in your report, there are a few things you can do:

This free service can help spot potential fraud and/or identity theft attempts. Your credit report is monitored daily and you'll be alerted by email if there are any major changes.

This free service will not impact your credit score. Lenders use a "hard inquiry" to make decisions about your credit worthiness when you apply for loans, but this service uses a "soft inquiry" to give you a snapshot of your credit standing.

My Credit Score uses bank-level encryption and security measures to keep your data safe and secure. This service never shares your personal information with third parties.
Test Modal
Modal Content
Ea rerum vel molestiae omnis molestias. Et ut officiis aliquam earum et cum deleniti. Rerum temporibus ex cumque doloribus voluptatem alias.
Personal Savings
| Minimum to Open | Minimum Monthly Balance | Minimum to Earn APY | Balance Method | Compounded / Credited | Current Dividend | APY |
| --- | --- | --- | --- | --- | --- | --- |
| $5 | $5 | $50 | Daily | Monthly | 0.49% | 0.50% |
Rate is effective December 2, 2023 and is subject to change.
Also see terms for accounts.
Leaving Our Website
You are leaving Fibre Federal Credit Union and TLC's website. This link does not constitute an endorsement by Fibre Federal Credit Union and TLC of any information, products or services on this external website. We make every effort, however, to ensure all linked sites follow similar privacy policies as ours to offer maximum security and privacy.