Add a Certificate or Subaccount in Online Banking
Now you can add a savings, checking*, or additional certificate to your existing accounts in Online Banking or Mobile Banking! Set aside money in a special savings account, enjoy the perks of Choice Checking, or save more for the future with another long-term or short-term certificate. Meeting your financial goals is easier than ever, without the need to visit a financial services center.
Open and fund your new subaccount or request a certificate in just a few clicks:
In Desktop, click the Apply & Add tab and select "Add Account."
In Mobile, tap More, choose Apply & Add, and select "Add Account."
Choose the account or certificate type you'd like to add and select the appropriate Member ID number if you have more than one account. If you want to add a savings, checking, or certificate, you can choose from a list of detailed options available and then follow the prompts to fund and open your new subaccount. It's so simple, and it's a great way to broaden your options for smart money management.
Log into Online Banking or Mobile Banking to add a new certificate, savings, or checking account today! Not yet an Online Banking user? Register here.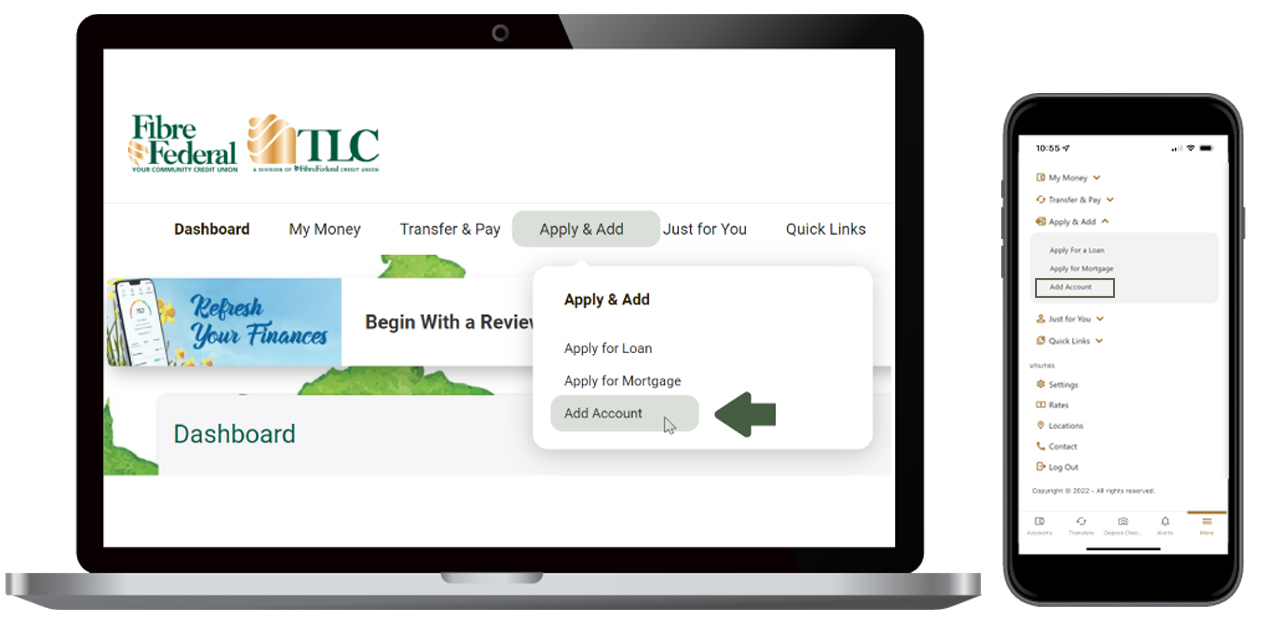 *Each member account number allows one checking account. If you'd like to open a second checking account, you may request to open an entirely new account number.
Test Modal
Modal Content
Ea rerum vel molestiae omnis molestias. Et ut officiis aliquam earum et cum deleniti. Rerum temporibus ex cumque doloribus voluptatem alias.
Personal Savings
| Minimum to Open | Minimum Monthly Balance | Minimum to Earn APY | Balance Method | Compounded / Credited | Current Dividend | APY |
| --- | --- | --- | --- | --- | --- | --- |
| $5 | $5 | $50 | Daily | Monthly | 0.49% | 0.50% |
Rate is effective December 2, 2023 and is subject to change.
Also see terms for accounts.
Leaving Our Website
You are leaving Fibre Federal Credit Union and TLC's website. This link does not constitute an endorsement by Fibre Federal Credit Union and TLC of any information, products or services on this external website. We make every effort, however, to ensure all linked sites follow similar privacy policies as ours to offer maximum security and privacy.