HOW DOES DIGITAL WALLET WORK?
November 18, 2022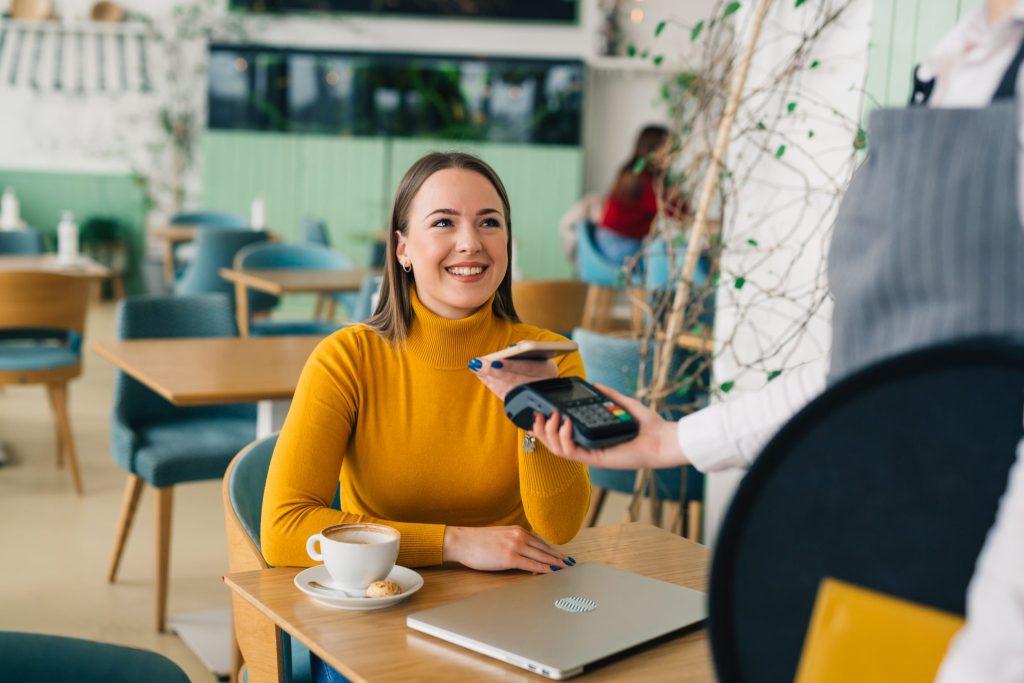 At Fibre Federal Credit Union, our priority is keeping your finances safe and secure. But we also recognize that you need more than that – you need your finances safe and secure AND quick and easy. Enter the Fibre Federal Digital Wallet, keeping you safe while also keeping things convenient.
But what is a digital wallet and how does it work? Keep reading to learn how the Fibre Federal Digital Wallet can keep you safely connected to your finances at all times and in all places.
WHAT IS A DIGITAL WALLET?
Digital wallets have become an increasingly popular way to conduct day-to-day business via a computer, smartphone, or another smart device. They are a form of contactless payment that can eliminate the need to carry around a wallet altogether!
Different digital wallets use different technologies to process payments. Your digital wallet holds your card or account information and allows you to make purchases conveniently with a tap or swipe of your smart device.
Is It Safe?
Something so easy and convenient can't also be safe, can it? It sure can!
Fibre Federal Digital Wallet does not transfer your card number data but uses a unique "token" code for each transaction. This process is called "tokenization" and it helps safeguard your card information when you make a purchase.
This means that when you make a purchase, the digital wallet will generate a token instead of sending your credit or debit card information to the merchant. The token is used to process the payment while your personal information stays secure.
Plus, as an extra layer of protection, access to your Fibre Federal Digital Wallet is protected by a PIN or other security measure to prevent unwanted access.
Finally, by storing your cards digitally, you can worry less about them being lost or stolen.
CREATING A DIGITAL WALLET
If after discovering more about how a digital wallet works, you're ready to get started with this convenient option, let's review the steps to create a digital wallet with Fibre Federal.
1. Download the App
The first step to creating a digital wallet is to download your preferred pay app. Pay apps compatible with Fibre Federal Digital Wallet include Apple Pay, Samsung Pay, or Google Pay.
2. Register Your Card or Cards
After you download your compatible pay app, it's time to load your cards into your wallet. Simply follow the on-screen instructions to load your information quickly and easily.
3. Make Purchases
This is the fun part! Next time you want to make a purchase, simply tap with your device to make a payment using your digital wallet. Easy, quick, and safe!
DIGITAL WALLET ON THE GO!
With your digital wallet set up, you are ready to make purchases! And the opportunities to use your Fibre Federal Digital Wallet are endless!
Restaurants
Let's say you're on the go and just want a fast coffee. Or you're out with a group and want to quickly pay your share. Or it's just a nice dinner for two and you don't want to dig for your wallet at check time.
Digital wallets are a perfect companion when heading to restaurants. If you're in Clark county in Washington, use your digital wallet at Barrell Mountain Brewing or the popular Amaro's Table. If you're in Oregon, check out Pelican Brewing near Tillamook. There are so many options for our members to make dining out a breeze!
Shopping
There are tons of shopping options for our members in Washington and Oregon – which means tons of places to use your Fibre Federal Digital Wallet!
If your hands are full of purchases, simply tap your smartphone at the Vancouver Mall in Washington. Or make someone's day by buying a treat at the Columbia Gorge Outlets in Oregon. It's easy with a digital wallet!
Everything Else!
Digital wallets aren't just for eating and shopping! You can use them at museums, entertainment centers, cinemas, amusement parks – you name it. With your Fibre Federal Digital Wallet, you can make paying for just about anything with a tap!
Just note that the use of a digital wallet may be limited and some merchants or locations may not accept them yet. It's never a bad thing to keep a backup credit or debit card tucked away just in case!
DIGITAL WALLET SOS
We recognize that you may run into a situation with your digital wallet where you have some questions or need some assistance. And Fibre Federal is here for you!
What If I Lose My Device or My Card Is Stolen?
If you lose your device, contact your cell phone provider immediately. As a precaution, you can contact us at 1-800-205-7872 during business hours or 1-833-462-0796 after hours to block your card.
What If I Need Technical Support?
As much as we'd like to help you with all your concerns and questions, "technical" means different things to different smartphone users! But check out our handy list of providers who can help you get digital wallet set up on your mobile device today. By clicking on your mobile provider, you can get answers on how to use digital wallet and which devices are compatible.
GET STARTED WITH A FIBRE FEDERAL DIGITAL WALLET
Finding out how a digital wallet works, how you can create a digital wallet, and where you can use one is just the beginning. Get started with our Fibre Federal Digital Wallet today!
Learn more about the convenience of paying on the go with your smart device. Our financial professionals are here to answer your questions and help get your Fibre Federal Digital Wallet set up today.