MOBILE CHECK DEPOSIT | WHAT IT IS & HOW TO USE IT
November 2, 2022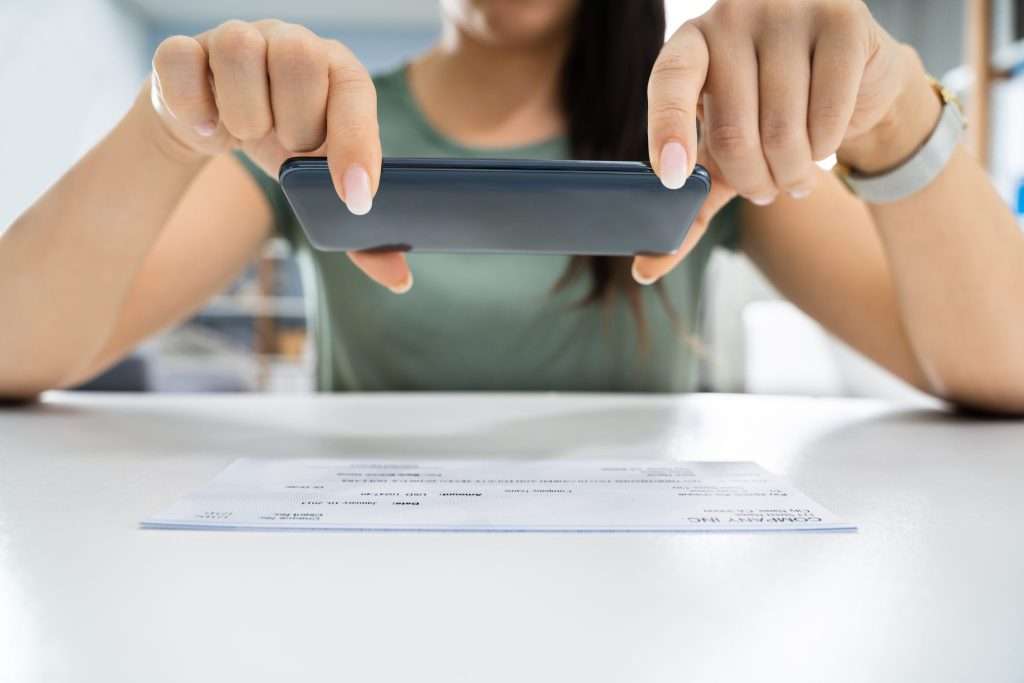 It's easier than ever in today's world to bank on the go. At Fibre Federal Credit Union, we're happy to provide members with ample banking options that keep your finances at your fingertips.
With all this new technology and mobile capability, it may surprise you when you have to deposit a check. Yes, an actual paper check. Don't worry; we've got you covered with our Mobile Deposit.
Keep reading to learn more about mobile check deposit, what it is, and how to use it.
WHAT IS MOBILE CHECK DEPOSIT?
Mobile check deposit tools allow you to use the camera on your phone or tablet to deposit checks into your account. With our Mobile Deposit feature, you can deposit checks into any account on which you're a joint signer with Fibre Federal Online Banking.
So, let's say someone pays you with a personal check or you get a rebate or refund paid by check. Instead of visiting your local financial services center, you can use your smart device to deposit the check quickly and easily from home or anywhere.
Simple, right? But we know what you're thinking…
ARE MOBILE CHECK DEPOSIT TOOLS SAFE?
Technology has certainly come a long way but that doesn't mean you shouldn't be careful. Asking whether a mobile check deposit tool is safe is part of a secure approach to banking!
At Fibre Federal, we take security very seriously. This means making sure any information transmitted to us electronically is done so using the highest quality encryption tools available. And all check images are stored on a secure server and not on your mobile device. As soon as the app is closed on the phone or tablet, the images are deleted.
When you use mobile check deposit with Fibre Federal, your information is safe and secure.
HOW DOES MOBILE DEPOSIT WORK?
Mobile Deposit is as easy as taking a picture! Just follow these simple steps to get started.
Sign Up for Online Banking and Download the Mobile App
First things first: make sure you're signed up and have our app.
Sign up for Fibre Federal Online Banking and then download our mobile app from the App Store or Google Play. Now you are ready to roll.
And don't worry! If you have questions about our Online Banking, we have a handy step-by-step guide through the process with our Mobile Banking Resources and Tutorials.
Access Mobile Deposit
Once you have downloaded it, open our Fibre Federal mobile app and select the Deposit Check icon in the bottom menu. Please note that you will be asked to read and agree with our Mobile Deposit Service Agreement your first time using Mobile Deposit.
Endorse Your Check for Mobile Deposit
Just as when you deposit in person, you will need to endorse a check for mobile deposit. Knowing what to write on the back of a check for mobile Deposit is important, otherwise, the transaction may not go through properly. Sign your name and be sure to write "For Mobile Deposit Only at Fibre Federal Credit Union" in the endorsement area.
Take Pictures and Submit
Once you are ready, you'll be directed to take pictures of the front and back of your check with your phone or tablet. Be sure you have a dark background available to place the check against for the photos. After that, all you have to do is click Submit!
When you're done, you will receive a message that your check was successfully submitted along with a confirmation number. Your deposit will usually be available in your account by the following business day.
Need to see Mobile Deposit in action? Check out our handy how-to video.
MOBILE CHECK DEPOSIT: TIPS & TRICKS
Now that you know how to deposit checks on a mobile device, let's get into the specifics, particularly related to our services at Fibre Federal.
While mobile check deposit is meant to make your life easier and allow you to bank on the go, there are some details to keep in mind. Some best practices will ensure you stay safe and secure.
Accounts for Deposit
You can use mobile check deposit to deposit checks to your regular savings, checking, Money Market savings, and Money Market checking accounts. You cannot deposit to certificates or loan accounts.
Types of Checks
While you can deposit most checks through mobile deposit, there are some exceptions, including:
Third-party checks

Post or stale dated checks

Money orders

Pre-authorized drafts

Substitute checks

Savings bonds

Checks that have been altered

Checks not payable through a financial institution located in the United States
Deposit Limits
There is also a limit on how much money you can deposit electronically. While there is no minimum amount you can deposit, your deposits cannot exceed $25,000.00 in a 30-day period.
Avoid Common Errors
Details are important when it comes to smooth mobile check deposits. Make sure that your signature on paper checks is legible and that the photos you take are clear.
You will be required to enter the amount of the deposit in addition to taking a picture of the check. Make sure what you enter matches what is on the check!
And don't toss the check right away! You should mark deposited checks as being electronically deposited and store them securely for seven days. After that, the checks should be shredded and disposed of properly.
MOBILE CHECK DEPOSIT: JUST ONE BENEFIT OF MOBILE BANKING
Our goal at Fibre Federal is to ensure the financial and personal success of our members – no matter where you are or what you're doing!
Mobile Deposit is just one benefit of Mobile Banking with Fibre Federal. Our Mobile Banking allows you to stay connected to your finances while on the go through our mobile app. Take us along for the ride! Learn more about all we have to offer through Mobile Banking.